Project Food Forest is still in it's infancy, and we have a lot of first-time goals to meet yet, but I want to start out this post by stating that the organization would not be where it is today without the help of many, many people. We have a wonderful board of directors who have contributed a lot of time, plus many volunteers and donors who have given time and money to help us get where we are.
But in the beginning, there was me and my thoughts. I had been studying ecological gardening, agroforestry, permaculture, and other environmental topics for a few years. After attending a Permaculture Design Course in Vermont, I started picturing food forests everywhere I went. Every lawn, park, and green space in Sioux Falls seemed like prime real estate for an edible ecosystem.
One day, I was walking by the Lacey Estate (the six remaining acres of a 115-year-old farmstead by my son's school). The for-sale sign had been up for over a year, but that day was the first that the sign had beckoned to me. The property was zoned as agricultural, and sat right next to two schools and a park. This was the perfect place to put a food forest.
I started thinking, talking, meeting, planning, emailing, calling, conversing. I did enough of those things to let people talk me out of that idea. Or maybe I talked myself out of it. After all, $1.25 million is a lot of money to raise for someone with no experience raising money.
Instead of purchasing land to build food forests, I, and the many valuable people helping me, decided to contract with many land-owners to build food forests on their land in many places all over the city. It seemed perfect. We'd have to raise much less money and could side-step recurring liabilities if we played it right. We could put all the money we raised straight into food forests themselves and administrative costs.
And while it's true that we've avoided recurring liabilities, giving us great financial flexibility, we've also come across other hurdles. Indeed, building a food forest, something that looks very messy to the average eye, on a city park will be quite a feat. Working with the city to come to an arrangement that fulfills their needs while still upholding our organizational values may be a difficult task.
But here's the thing. If it were easy, it would have already been done. This is what we're here for. We're here to sort through the mess, jump over obstacles, and push through resistance. We'll remain flexible and do whatever it takes to get edible plants all over the city and remove money as a barrier between people and food. We still have many options to pursue including building food forests on open spaces at churches, hospitals, bike trails, apartment complexes, and businesses.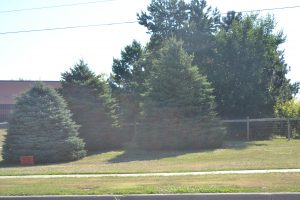 And by the way, the Lacey Estate, the original inspiration and motivation for Project Food Forest is under contract to be purchased by Lloyd Properties to build medium-density apartment buildings pending rezoning of the property. No more horses, no more history, much fewer trees, less green space, and a lot more traffic. I still think it would be a perfect place for a food forest, and so do many of my neighbors. But first we have to convince the city council not to approve the request. Maybe that first inspiration really could become what I had envisioned: an edible ecosystem that can teach local children about sustainable food growing, ecology, and nature while helping to feed hungry children. Feel free to contact me if you have any ideas or want to help.
https://projectfoodforest.org/wp-content/uploads/2016/08/DSC_0025-1024x683.jpg
683
1024
bsopko
https://projectfoodforest.org/wp-content/uploads/2016/07/linear_logo_web_cropped-300x116.png
bsopko
2016-08-16 03:54:19
2016-08-16 03:54:19
The First Inspiration for Project Food Forest